It is always about money not people
This morning I found this video of Ben Shapiro describing Russia as a second world power.  I don't know when this interview is from but I think it is recent.  If it is recent I don't know how he could say this.  The opinion that Shapiro espouses is the same one held by the west at the beginning of the Ukraine invasion.  Russia is weak.  There is no way Russia can maintain this war.  Within weeks Russia would be out of supplies and with a little help Ukraine will push them back over the border.  It has been nearly 2 years and none of that has happened.
It is well past time to admit we were wrong; either Russia is stronger than we think or the west is weaker than we think.  This was apparent from almost the beginning of the war.  Daily we got media reports of Ukrainian successes accompanied with maps that showed a steady advance of the Russian army.  How could we think Ukraine was winning when they kept losing territory?  It was obvious that Russia was going to win yet we kept sending money to one of the most corrupt countries in Europe.
The media is now strangely silent on Ukraine and that is by design.  Public sentiment is changing.  Even Ukrainians are tired of this war.  Ukrainian women are demanding an end to perpetual military service.  They are tired of watching their husbands and sons come home in coffins.  This sentiment is also shared by much of the Ukrainian government.  Even Zelensky's inner circle wants to end the war, if only their boss would let them.
One of Zelensky's "closest advisors" said their leader "deludes himself" about the prospect of a victory; that "we're out of options. We're not winning. But try telling him that." 
This is not lost on Western leaders.  They are well aware of the shifting winds.  Recently Giorgia Meloni was tricked in to admitting Italians no longer believe the bullshit and NATO would like to find a way out.
"I see that there is a lot of fatigue … from all the sides," Prime Minister Giorgia Meloni said to two Russian comedians, pretending to be the president of the African Union in a hoax call, which was made public on Wednesday. "We [are] near the moment in which everybody understands that we need a way out."
It is actually simple to get out of this war.  Just announce we are done.  No more money or weapons will be sent to Ukraine.  But, Meloni and the other NATO leaders will not do that.  Publically withdrawing from the war would spawn too many uncomfortable questions.
Why did NATO go all in when the war did not involve a NATO country?
Why were billions given to a corrupt regime with no oversight?
How come we kept this going for so long?
The last question is the most uncomfortable question of all.  Ukraine is a huge money laundering operation.  Politicians did not keep sending money to Ukraine because Ukraine was winning or even because they thought Ukraine would win.  The money kept flowing to keep the kickbacks flowing.  This was never about a war just as the COVID response was never about a virus.
The media has moved on to the Middle East which is a convenient excuse to ignore Ukraine and COVID.  This is exactly what their political overseers want them to do.  None of them want to discuss how many people were killed by their last 2 money laundering operations.  We cannot let them brush this under the table.  Too many people have died for no good reason.  This must stop.  They must be stopped and held accountable.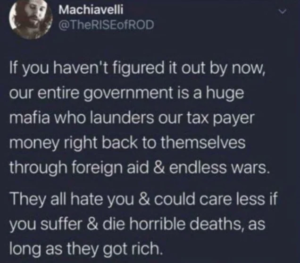 https://truthaboutcovid.ca/wp-content/uploads/2020/10/covidlogo2-1.png
0
0
richardsuffron
https://truthaboutcovid.ca/wp-content/uploads/2020/10/covidlogo2-1.png
richardsuffron
2023-11-04 09:11:17
2023-11-04 09:11:17
It is always about money not people