Do you remember this?
Watch | US head nurse faints after taking coronavirus vaccine shot during press briefing
Tiffany Dover, a head nurse at Chattanooga, Hospital in Tennessee, passed out during a press briefing after taking a Pfizer-BionTech's coronavirus vaccine. https://t.co/nLdPu4AXrK pic.twitter.com/qOkVEAghHO

— Ento_wijaya (@Entow1jaya) December 19, 2020
Tiffany Dover was one of the first people to take the COVID vaccine.  As part of the propaganda program Tiffany took her shot on camera and then promptly collapsed.  This was a very inauspicious start to the vaccine roll out so they were quick to prop Tiffany up in front of the camera again so she could explain that it absolutely was not the jab that caused her to collapse.  A few days later Tiffany was on camera again this time looking very unwell.  That video has been scrubbed from the internet and Tiffany has not been seen since.
Tiffany's sudden disappearance spawned persistent rumors that she had died.  Recently a pro-government pro-vax reporter (in 2022 is there any other kind?) decided to lay to rest the death rumors.  The reporter travelled to Tiffany's home town for an interview.  She could not get an interview.  She did find proof of life so to speak.  Tiffany has signed a couple of mortgage documents recently but tiffany no longer works or even leaves her house.
It appears that Tiffany survived the Jab but is too ill to leave the house.  Friends and family would say nothing about tiffany's situation.  They hinted there was a non-disclosure agreement in play that kept them from divulging any information.
Pfizer has bought Tiffany's silence.  I don't blame Tiffany her medical bills could be quite substantial now so taking the money was the right thing for her to do.  In some ways I don't even blame Pfizer.  They are certainly a villain in this story but they are not the villain.  That role as always is played by government.  There is no way the government is unaware of Tiffany's situation.  Government knows the jabs are not safe but instead of stopping they are still coercing and even forcing people to take them.  To government Tiffany is just collateral damage on the way to the great reset.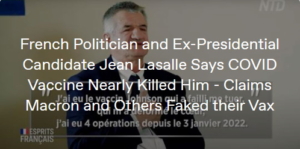 https://truthaboutcovid.ca/wp-content/uploads/2020/10/covidlogo2-1.png
0
0
richardsuffron
https://truthaboutcovid.ca/wp-content/uploads/2020/10/covidlogo2-1.png
richardsuffron
2022-10-14 17:26:10
2022-10-14 17:26:10
How many Tiffany Dovers are out there?