Australian Aboriginals are the test case for complete Global Tyranny
Here are two short but important videos out of Australia.
🆘BREAKING NEWS🆘 Representatives of the Aboriginal Community in Australia issue International Plea for help over tyrannical Australian coercion & control.

How much longer can the world just sit back and let this happen? pic.twitter.com/Arnd2teCLJ

— UNN (@UnityNewsNet) November 24, 2021
Blacks in the US and Aboriginals in Australia have seen more than their fair share of government maleficence.  It is not surprising they do not trust government supplied vaccines since they have no reason to trust their government.  Governments also have a history of using force against blacks and aboriginals when they step out of line, which is what we are seeing again in Australia.
The gentleman in the second video is quite right when he says that this will not stop at aboriginal communities.  The government is just running another experiment to see how far they can take the tyranny.  If the Australian government gets away with this it will spread.  Other governments will do this to their citizens.  This will not stop with aboriginals and it will not stop with the unvaccinated.  This is not about a vaccine and it is not about a virus.
To me the most disturbing part of either video is the allegation of foreign troops and police on Australian soil acting as storm troopers.  Tyrants have known for years that troops and police are reluctant to use violence on people from their own ethnic groups.  In AD9 the Romans sent troops to Germany to put down a rebellion.  One of the officers, Arminian, was a Germany who was taken to Rome as a young boy.  He joined the military and by all accounts was a good officer right up until the day he was asked to kill other Germans.  Arminius defected and led the Germans to a resounding victory over the Romans in the Teutoburg forest.
Ethnic and tribal ties are extremely strong, that is why it is a common tactic to bring in foreign troops to do things your own troops might refuse to do.  To put down the Tiananmen Square uprising the Chinese flew in troops from the other side of the country.  They knew the local troops would not obey an order to shoot at their friends and family.
That is also why there is such a strong push from Emanuel Macron to develop a European army.
https://gospelnewsnetwork.org/2021/02/24/emmanuel-macrons-end-times-dream-of-a-10-nation-european-army-gets-major-boost-from-european-council-on-foreign-relations/
https://sputniknews.com/20210929/making-ourselves-be-respected-macron-calls-for-european-army-as-us-focused-on-itself-1089499532.html
https://www.express.co.uk/news/world/1500095/European-Union-army-news-Emmanuel-Macron-France-military-Brussels-latest-vn
https://www.nationalreview.com/2018/12/european-union-army-emmanuel-macron-proposal/
Macron has been pushing this idea for years.  You would almost think he was planning to do something to French people that French military might object to.  It is way easier for him to get what he wants if he allows Germans to shoot Frenchmen again.
If true, the use of foreign military and police against Australian Aboriginals is proof of a global conspiracy.  Governments are cooperating in the destruction of democracy and human rights.  This needs to be exposed and it needs to be stopped by any means necessary.
"And how we burned in the camps later, thinking: What would things have been like if every Security operative, when he went out at night to make an arrest, had been uncertain whether he would return alive and had to say good-bye to his family? Or if, during periods of mass arrests, as for example in Leningrad, when they arrested a quarter of the entire city, people had not simply sat there in their lairs, paling with terror at every bang of the downstairs door and at every step on the staircase, but had understood they had nothing left to lose and had boldly set up in the downstairs hall an ambush of half a dozen people with axes, hammers, pokers, or whatever else was at hand?… The Organs would very quickly have suffered a shortage of officers and transport and, notwithstanding all of Stalin's thirst, the cursed machine would have ground to a halt! If…if…We didn't love freedom enough. And even more – we had no awareness of the real situation…. We purely and simply deserved everything that happened afterward."
― Aleksandr I. Solzhenitsyn , The Gulag Archipelago 1918–1956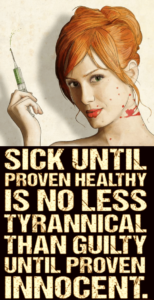 https://truthaboutcovid.ca/wp-content/uploads/2020/10/covidlogo2-1.png
0
0
richardsuffron
https://truthaboutcovid.ca/wp-content/uploads/2020/10/covidlogo2-1.png
richardsuffron
2021-11-25 13:07:00
2021-11-25 13:07:00
Australian Aboriginals are the test case for complete Global Tyranny