In 2021 Why Don't We Take Back Power From Government?
A reader sent me this a couple days ago.  This interview was conducted for the same documentary as the Catherine Austin Fitts interview that I posted 2 days ago.  The interview is very long but interesting so if you have time please have a look.
Pam Popper makes many good points most of which I have discussed before.  She makes 3 very good points that are worth repeating and discussing again.
Anthony Fauci is a dangerous, duplicitous, self-promoting weasel who no one should ever listen to.
Governments are deathly afraid of defending their covid restrictions in court.
This is only happening because we are letting it happen.
Anthony Fauci
Pam discusses Fauci's lethal involvement with AZT trials for AIDs.  It seems that the only reason Fauci was interested in AZT was that the patent was available and if it worked he could make money from it.  He was not at all fazed about human trials of a drug so toxic that no one bothered to patent it in the first place.  The slight chance of an easy profit was all it took for him to risk lives.
We have seen the same behavior during our current "pandemic".  St. Fauci was very quick to dismiss promising trials of old inexpensive drugs (hydroxychloroquine and Invermectin).  He preferred to let people die until expensive drugs (remdesivir) and vaccines were available.  Expensive drugs leave a lot more room for some of the profits to show up in St. Fauci's bank account.  St. Fauci is worth over 10 million dollars which you cannot explain on his $300,000/year salary.
Fauci has come down on the both sides of every issue since March but the Media only reports when Fauci says what they like.  He was highly critical when the WHO reported asymptomatic transmission was so rare that it is not a factor.  Then months later Fauci himself said that asymptomatic transmission has never been a big factor in any viral outbreak.  He said masks are symbolic until they became necessary because of the grave threat of asymptomatic transmission.  This little weasel constantly speaks out of both sides of his mouth and the media gives him a free pass every time he does it.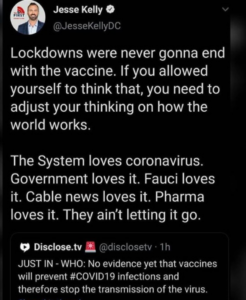 Governments are afraid of defending what they have done in court.
Pam Popper's group have been violating Covid restrictions to test the government response.  They have not found a way to get arrested.  The government counts on the threat of fines to coerce compliance.  When they don't get it they are leery about following through because they know what they are doing will not stand up in court.  As Pam points out the weak link in the governments armor is the emergency declaration.  If they can't prove there is an emergency they can't justify the suspension of constitutional rights.
We have exactly the same problem in Alberta.  Our Charter of rights says the rights are subject to the reasonable restrictions of government.  The evil Troll Kenney shut down Alberta using the public health act that allows him to do anything as long as he declares a public health crisis.  He has no obligation to prove that we have a crisis.  In fact on March 17th when this started we only had 1 case of covid.  How is that an emergency?
If we don't have an emergency how can this be constitutional?  How can denying rights be reasonable when you don't have to prove we have a crisis?  I think this is why we are seeing police in Alberta behaving like storm troopers.  They are hoping that people will be too afraid to challenge the rules and fines.  What the police in our province are doing is the equivalent of a cowardly bully puffing up his chest hoping no one calls his bluff.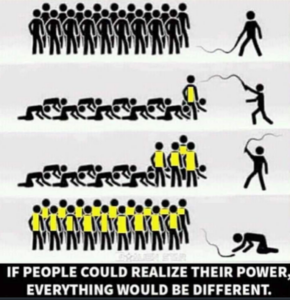 This will only stop when we stop it
This is our fault.  The government has been slowly boiling us frogs and we refuse to jump out of the pot.  Worse than that we are complicit in the tyranny by pulling the few free thinking frogs back in to the pot.  In the video below 5 masked covidiots try to shame a woman in to wearing a mask.  Have a look.
https://twitter.com/i/status/1343257477127708675
Are more people waking up? pic.twitter.com/pbwBck8tPc

— ? Josh Lekach ? (@JoshLekach) December 27, 2020
At one point one of the masked Covidiots tells her that wearing a mask is no big deal.  How many times in the 1930s do you think that Jews were told wearing a yellow star was no big deal?  I asked that of someone once and they were quick to tell me that it was not fair to compare this to the holocaust.  He was right, there is one big difference between this and the holocaust.  When the persecution of the Jews started no one knew it would end in mass murder.  Everyone knows that stress and unemployment will lead to mass murder.  We cannot claim ignorance the way the German citizens did.
Pam Popper even recounts a story from Nazis Germany.  There was a church beside the rail road that carried box cars full of Jews to the camps.  The Jews in the cars were screaming for help.  In response the parishioners sang louder to drown out the noise.  How loudly are we singing our covid songs?  We should be ashamed of ourselves.
If you are hoarse from all the singing you did in 2020 I have a 2021 resolution for you.  Stop cooperating and obeying.  Stop wearing a mask.  Invite people to your home.  Travel unnecessarily.  There are 7,700 police officers policing almost 4,500,000 Albertans.  If only 5% of us disobeyed we would outnumber the police 30 to one.  We have all the power, the government knows it; even if we don't.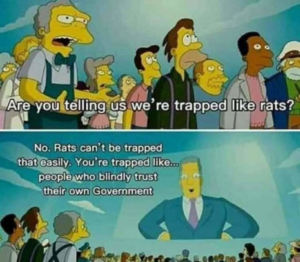 https://truthaboutcovid.ca/wp-content/uploads/2020/10/covidlogo2-1.png
0
0
richardsuffron
https://truthaboutcovid.ca/wp-content/uploads/2020/10/covidlogo2-1.png
richardsuffron
2021-01-02 18:03:20
2021-01-02 18:03:20
In 2021 Why Don't We Take Back Power From Government?