Stupid is as Stupid does. The Story of Doug Ford's Political Career
Yesterday the province of Ontario issued a stay at home order.  This is from the province's own web site.
"The latest modelling data shows that Ontario is in a crisis and, with the current trends, our hospital ICUs will be overwhelmed in a few short weeks with unthinkable consequences," said Premier Ford. "That's why we are taking urgent and decisive action, which includes declaring a provincial emergency and imposing a stay-at-home-order. We need people to only go out only for essential trips to pick up groceries or go to medical appointments. By doing the right thing and staying home, you can stay safe and save lives."
The reasoning behind this is modelling.  They also drag out the old argument that if you leave your house people will die.  Somehow healthy people are able to infect and surely kill innocent government obeying citizens.  I would say we have seen this movie before but it seems to be the same movie without an end.  Since March computer models have been predicting the only way to avoid certain death is through strict conformance to government.
Under the new rules Ontarians are only allowed to leave their home to perform essential tasks.  That makes this rule very hard to understand.
All non-essential retail stores, including hardware stores, alcohol retailers, and those offering curbside pickup or delivery, must open no earlier than 7 a.m. and close no later than 8 p.m. The restricted hours of operation do not apply to stores that primarily sell food, pharmacies, gas stations, convenience stores, and restaurants for takeout or delivery.
You cannot leave your home for non-essential purposes but non-essential stores can remain open.  Where the hell will they get their customers from?  Their customers can be fined for being in their stores.
Apparently the situation in Ontario is so desperate that Doug Ford's thinking is even more convoluted and contradictory than normal.  Ontario is seeing quite a surge in cases.  See below.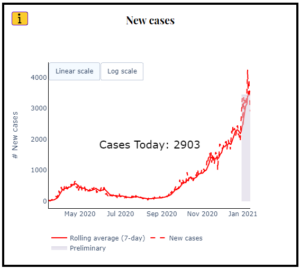 That plot looks very much like the plot of testing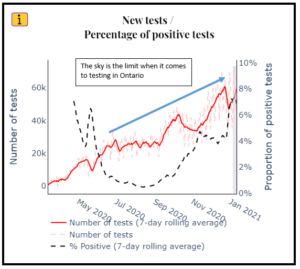 Ontario keeps ramping up the panic by ramping up testing.  Just because the province is being deceptive does not mean they don't have a problem though.  I decided to compare deaths from January 1 to 10 and current ICU utilization for Alberta, Saskatchewan, and Ontario.  Ontario and Alberta have similar rules restaurants, bars, gyms, and personal services are closed.  Alberta does not have a stay at home order.  Saskatchewan has a mask mandate and some bizarre rules about who is allowed in your home but everything is open.  Below is how the Provinces compare.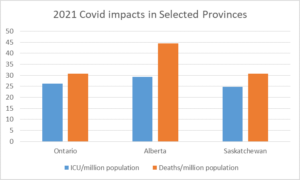 The situation in Ontario is very dire indeed.  Their numbers are exactly the same as Saskatchewan where everything is open.  Doug Ford is a Jedi master of Evil Stupidity.  He is the clown prince of Canadian politics.
https://truthaboutcovid.ca/wp-content/uploads/2020/10/covidlogo2-1.png
0
0
richardsuffron
https://truthaboutcovid.ca/wp-content/uploads/2020/10/covidlogo2-1.png
richardsuffron
2021-01-13 09:50:58
2021-01-13 09:50:58
Stupid is as Stupid does. The Story of Doug Ford's Political Career