They might not be Smart but they Knew
Someone in the UK has leaked WhatsApp messages between key cabinet ministers and bureaucrats.  The messages show that the UK government knew COVID was not really a problem and the lockdowns were not needed or justified.  Below is one particularly revealing exchange involving then Prime Minister Boris Johnson and Health Minister Matt Hancock.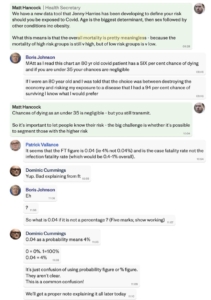 This exchange shows they all understood COVID was not a serious problem but they were determined to concoct an excuse for lockdowns.  Boris Johnson even admitted seniors would not likely agree with shutting down the economy over a highly survivable flu.  That was why they never gave anyone a choice.  To me, the most remarkable thing about this exchange was the decision to shut down the economy was made by a man that did not know 0.04 and 4% is the same thing.  Boris Johnson felt qualified to play god with lives and he is not even capable of grade school math.  That encapsulates COVID in a nut shell don't you think?
They clearly knew what they were doing was wrong yet they did it anyway.  Obviously their objective with the lockdowns had nothing to do with mitigating COVID.  Their real motivation was rooted in criminal corruption.  Not surprisingly they don't want us to know that.  Instead they would rather that we just forget what they did.
The people who locked you down and forced you to take the vaccine are hoping you will forget all about it.@LeilaniDowding lets loose with Mark Steyn.

Watch the full episode of The Mark Steyn Show here: https://t.co/J2lbYCscgq pic.twitter.com/6XTNRI3Sgw

— Mark Steyn (@MarkSteynOnline) March 3, 2023
I for one will never forget or forgive what they did.  They destroyed lives.  The constant fear mongering and lies resulted in mental illness.  Some people were so afraid of cold and flu season they isolated themselves and lived in squalor.  When fear was not enough the government stepped in to remove choice.  This elderly couple was forced to remain apart for a full year.
MATT HANCOCK – Was told it was inhumane to keep married couples apart in care homes. He did it anyway!

A couple are finally reunited in the same care home, after a year apart!

You may see this as joyful, I see it as the greatest shame of our lives!

— Bernie's Tweets (@BernieSpofforth) March 1, 2023
Forget about asking them about the economy; what do you think this couple would have said about losing a year together at the end of their lives?  What if one of them had died during their enforced isolation?  How could anyone think that this was the right thing to do?  The absolute cruelty of this is unforgivable and this is not even the worst thing government did.  This couple was lucky the government didn't just euthanize them.
18 Aug 2021 @GrahamNeary @FatEmperor @indepdubnrth #NeverForgotten 👍 such a pity the Irish have the memory of a goldfish? #TCOIMH where mistakes made #NPHET pic.twitter.com/qjtmu9uCr4

— duzBme – #EUA experimental vaccines #neverforget (@duzBme) March 2, 2023
None of what they did can be justified.  The only science they were following was political science.  They destroyed lives with absolutely no remorse.  They had their own selfish motivation for all of this.  In time I am certain we will find that the motivation was money.  Do not forget and do not forgive.  Anything these sociopaths get away with they will do again.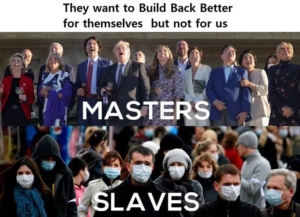 https://truthaboutcovid.ca/wp-content/uploads/2020/10/covidlogo2-1.png
0
0
richardsuffron
https://truthaboutcovid.ca/wp-content/uploads/2020/10/covidlogo2-1.png
richardsuffron
2023-03-03 09:14:59
2023-03-03 09:14:59
They might not be Smart but they Knew